Hundreds of spotlights in the sky: Action in support of the cultural industry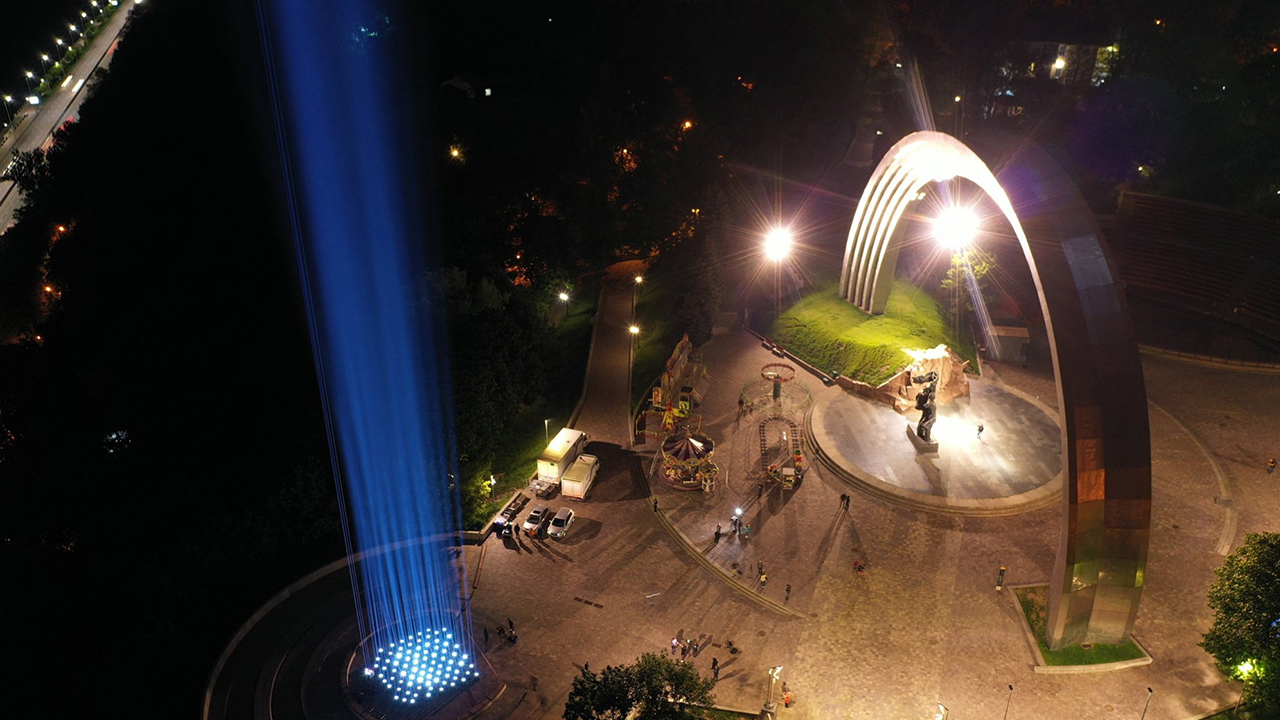 In order to attract the attention of the authorities to cultural industries and organizers of mass events, on May 12, an action #стопкультурнийкарантин took place in more than 20 cities of Ukraine - hundreds of spotlights shone in the sky for several hours.
What is the problem
On May 11, quarantine weakening began to operate in Ukraine. For example, restaurants under certain conditions were allowed to open summer areas. The exemptions apply to other industries, however, the authorities did not submit a quarantine exit plan for the entertainment industry and public events, which were significantly affected.
"The government does not have a scenario for us, for more than 250,000 people - artists, actors, musicians, choreographers, event organizers, cinemas, event agencies, technical personnel of light, sound and stage, decorators, ticket operators ... In our industry - hundreds of specializations and professions, without which it is impossible to imagine the modern cultural life of the country today, "the organizers said.
What's the solution
"If they don't hear us, they will see us!" - under such a slogan was the action #стопкультурнийкарантин. Kharkiv, Lviv, Khmelnitsky, Vinnitsa, Cherkasy, Odessa, Chernihiv, Uzhgorod, Ternopil, Kiev, Rivne, Poltava, Uman, Mariupol, Kamenskoye, Kremenchug, Drogobych, Stryi, Vyshgorod - in more than 20 cities of Ukraine, hundreds of spotlights located on iconic locations, shone in the sky for several hours.
Thus, representatives of the entertainment industry tried to attract the attention of the authorities in order to jointly begin to develop a quarantine exit plan.
Who took part in the action
Significant locations and concert venues: Bel'Etage, Lviv Arena NSC Olimpiysky, Atlas, Roof, Caribbean Club, IFest Republic, Green Theater Art Factory Mechanics of the South Coast Club, VDNH, Stereoplaza
Ticket services: TicketsBox, Gastroli.Ua, Concert.ua, Internet-bilet
Concert, advertising, and event agencies: Virus Music, Pop Corn CA, Global Events, Plombir, TAVP Media, Creative Beast, Do not Stop, RTM, UMH
Rental and production companies: Zinteco, Alight, Extravaganza, Rider Rent, Ritmo Rent, Ginza, Profi, Aspro, Rent Media, Fatsound, IQ Tech Event Service, ELECOR, Artmax, Ideal Sercets, Pr Music, Nota Production, Stagemart, Starwagen, Gali-Leo Rental, Kartochchi Ukraine ...
Festivals: Atlas Weekend, Beautiful City, Underhill Music Festival, Impulse Festival, Zaxidfest
Field organizations: Kyiv Music Days, Union of the Music Industry, All-Ukrainian Organization of Music Events